NAM 2017 is being held at the University of Hull campus on Cottingham Road.
Here is our campus map, showing the key conference venues and car parks. Click on it to download the PDF.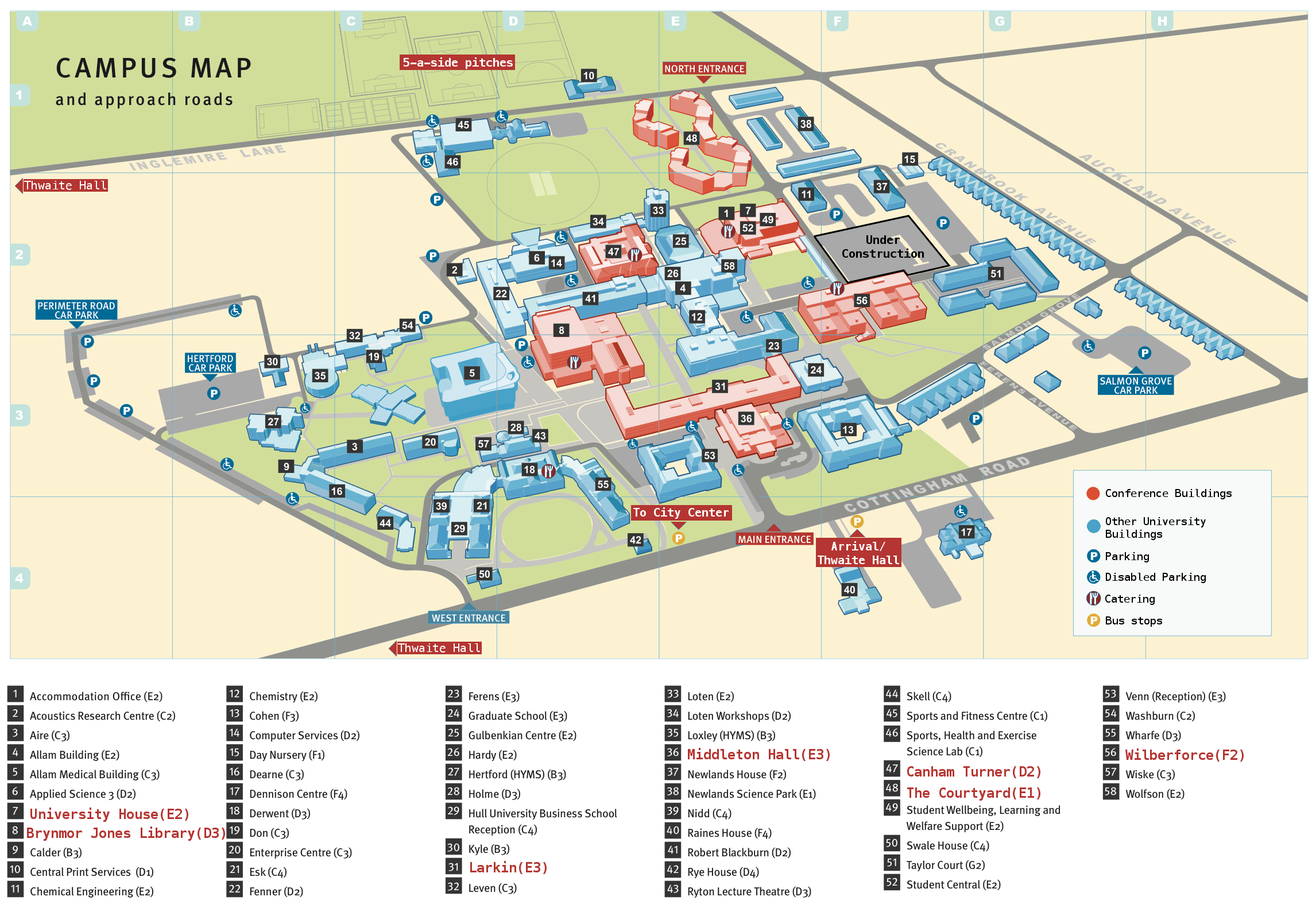 Driving and parking
On your GPS, use the postcode HU6 7RX for the main Hull Campus on Cottingham Road, and look out for the 'University' road signs. More driving instructions here.
There are a limited number of on-campus parking passes for those who booked on-campus accommodation. The parking passes can be collected from the registration desk. If you wish to park on campus, please enquire with the LOC in advance about parking-pass availablity.

There are also on-street parking on Inglemire Lane, near the north entrance of the campus.
Trains

The nearest train station to the campus is Hull Paragon Interchange (simply known as Hull on departure boards around the country).
Hull Paragon Interchange is in the city centre and provides easy access between rail, coach and local bus services all under the same roof. A taxi rank is located outside the main entrance of the station that will take you to the University or halls of residence.
Taxis
There are taxis available at the Paragon Interchange as you go out of the front of the railway station. A taxi will cost approximately £5 to 10 from the train station to the University, depending on traffic and the time of day. Some numbers for taxis:
Hull Cars: 01482 828282
57 Cars: 01482 575757
70 Taxis: 01482 707070

Buses
There are two bus companies that service Hull and the surroundings: Stage Coach and East Yorkshire Motor Service (EYMS). Please note that tickets are not valid for travel or exchange between the two companies.
For direct travel between the Hull Paragon Interchange and the Hull University campus, EYMS provides the most direct route. EYMS bus numbers 103 and 105 leave regularly (every 10 to 15 mins during the day; but look for bus numbers 106 and 107 for late night services) from the Interchange to outside the main South Entrance of the university, and travel onward to Cottingham (The Lawns).
Alternatively, EYMS bus numbers X46, 246, 122, and 121 regularly run from the Interchange to the intersection of Beverley Road and Cottingham Road. From there, it is about a 10 to 15 min direct walk to the campus along Cottingham Road.
Airport
The nearest airport to the campus is Humberside (located south of the river).
The cost of taxis from Humberside Airport to the campus is roughly £35-40 (this should be a fixed price). Get a quote by ringing any taxi companies in Hull.
There is also the 'Humber Flyer' bus which runs between Hull interchange and Humberside Airport (costs £6-8).